About us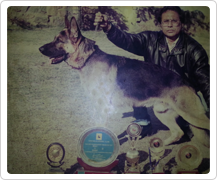 Mr. Jagpal, an avid animal lover from a young age, who has a passion for all kinds of animal, set out to follow his dream of being a dog breeder. His journey that started in 1980s and spans across four decades molded him into one of the most reputed breeders of India.
Jagpal Kennel, the sanctuaries of his dreams, from where Mr. Jagpal manages his passion of dog care and dog breeding has been a popular destination for pet lovers throughout the country and has also become a regular name with all kinds of pet lovers especially in Delhi and NCR.
Jagpal kennel has bred right from German Shepherd, Chow Chow, Mastiffs and now specializes in Siberian Husky, ShihTzu, Cocker Spaniel and Beagles. The Huskies from Jagpal kennel has even won accolades all over India.
The legacy of Mr. Jagpal and his dream of making Jagpal Kennel the best pet shop in Delhi is now shared by his son Dr. Jitendra, who being a veterinary surgeon has added a new dimension in the breeding facility and pet care at the kennel. Mr. Jagpal, apart from being a breeder has also judged numerous dog shows and has been actively helping in relocating abandoned dogs and cats found in the Delhi and nearby region.